Happy Saturday Friends! I bet many people are in their self quarantine and looking for new things to entertain themselves, right? And yeah, Dalgona Coffee, the cold latte drink, which comes with yummy sweet and bitter coffee foam on top, is the best way for you to kill your free time and of course to build some muscle while you're quarantined at home. Most of instagramers and youtubers used sugar for their Dalgona Coffee recipe but today I tried to use honey instead of sugar. The result was amazing with beautiful stiffed foam.
You can make Dalgona Coffee by mixing instant coffee with different kinds of sugar (brown, white, coconut) or sweetener (stevia…) if you're on diet. However, I tried once with stevia and the taste was awful 🙁 (you know that chemical aftertaste).
You can use hand mixer to mix the ingredients (the stiff peaks form in less than 5 mins) or you can also use spoon/ whisk to mix it but it may take 20 mins (i gave up after 10 mins)
You can use filter coffee (try Vietnamese filter) but for the best result you should leave the coffee in the ref overnight.
Below are step by step how to make Dalgona Coffee with honey.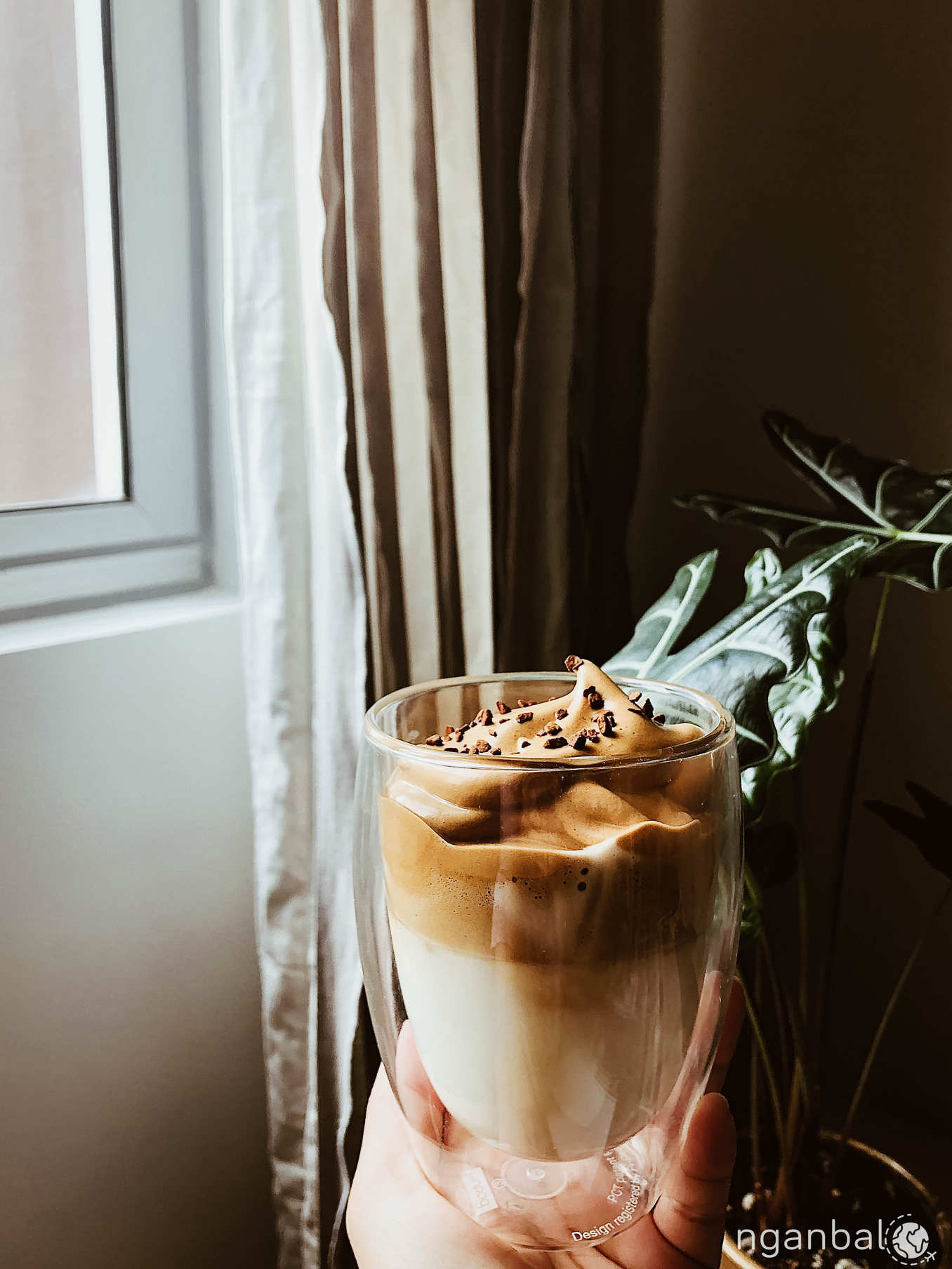 Print Recipe
Dalgona Coffee
How to make Dalgona Coffee, a new hot trend coffee recipe on social media these days.
The original recipe is from Macau.
Equipment
electric hand mixer/ whisk/ spoon
Ingredients
2

tbsp

instant coffee

2

tbsp

honey

2

tbsp

hot water

100

ml

cold milk

some ice cubes (optional)
Instructions
Combine instant coffee with honey and hot water and mix well (Ratio 1:1:1)

By hand mixer: mix in lowest speed for around 4-5 mins until stiff peaks form and the color is lighter

By whisk/spoon: you may need to mix it for around 15 mins to 20 mins to see the hard peak depend on how strong you are.

Fill your glass with 100ml of cold milk and some ice cubes (optional)

Spoon the coffee foam to the top of the milk.

Use a spoon to mix a bit before enjoying your coffee
Notes
You can use stevia or other kind of sweetener or different kind of sugar for this Dalgona Coffee recipe. 
Tip for using  filter coffee: put it in the ref overnight before starting to mix it. 
Hope you enjoy the coffee and feel free to let me know if you have any question by commenting below this post!
Để giúp mình duy trì blog, bạn đọc có thể đóng góp bằng cách click vào link dưới, cảm ơn các bạn nha 🙂
Tặng Ngân 1 ly cà phê
Bạn có thể cũng quan tâm đến các bài viết sau